Filter by Category
Academy of Medical Professions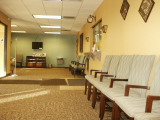 Medical Administrative Assistant with Medical Billing
with Academy of Medical Professions

Current session started Jan 25, 2023
•Medical Administrative Assistant- 16 Weeks. Classes are held once a week for 2 hours via Zoom and are recorded. You may choose to attend the course Live via Zoom or Self-paced by watching the recorded classes; both program options have instructor support. You will learn HIPAA compliance and health information in the medical office, insurance and billing procedures, financial and practice management, and administrative duties. In addition, we take you through the "virtual medical office" which gives you the opportunity to practice "real" medical office skills before entering the workforce. All books, virtual materials, and CMAA Exam Fees are included. $3,200.
•Medical Administrative Professional Program- 36 Weeks. This course track combines two programs: Medical Administrative Assistant with Billing, as well as Medical Coding with CPC-A, leaving you with 2 national certifications. It also includes our programs at a discounted rate. The Medical Professional courses are designed to be completed one after the other; course timing will be coordinated with you by our Education Advisors. Both programs offer Live Classes via Zoom and Self-Paced options; you may mix and match. This course includes all resources, books, and exam fees for both the Medical Administrative Assistant with Billing and the Medical Coding with CPC-A. You can find out more in the Medical Coding Information Package. $6,750
ENTRANCE REQUIREMENTS All applicants must be 18 years of age. A high school diploma or GED equivalent is also required by program completion. Basic computer skills required.
Registration Unavailable
Clinical Medical Assistant
Price not
available
with Academy of Medical Professions

Current session started Aug 18, 2023
There are few industries that offer as much opportunity ad stability as the healthcare industry.  If you are considering a career in healthcare, becoming a Clinical Medical Assistant may be perfect for you.   A career in Medical Assisting could provide you with everything you're looking for:  A short training period, excellent job opportunities, a good salary, and a professional working environment.
What is a Clinical Medical Assistant (CMA)?  A Clinical Medical Assistant is a medical support professional that performs a variety of tasks to assist physicians in providing patient care, while ensuring that clinics and hospitals run smoothly and efficiently.  While CMAs working in smaller practices may be required to perform some administrative tasks, those working in larger medical facilities focus mainly on providing support services directly related to patient care.  Here at the Academy we offer both Clinical and Administrative programs that can be combined.
Clinical Medical Assistants are more often found at the physician's side working in close contact with patients.  Typically, Medical Assistants prep rooms and prepare patients for examinations, while helping manage medical supply inventories.  CMAs may also assist nurses and physicians providing direct patient care by taking medical histories, charting vitals, and assisting in examinations and procedures.  Some even perform more advanced tasks under the supervision of a physician such as cleaning and dressing wounds, removing sutures, collecting blood and other specimens as well as administering medication.
Characteristics of a successful Clinical Medical Assistant:  Excellent communicator, ability to multitask, organized, ability to handle stress and think clearly on the fly.  One must be compassionate while still maintaining a professional distance.  This job often involves working with people who are sometimes frustrated, anxious, tired, sick and possibly even dying.
All courses offered either locally at Adult Education Centers in Maine only.  Externships are suggested, please ask your career counselor for more details or assistance in providing those.