Filter by Category
General Enrichment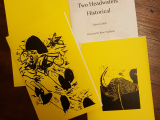 SAGE Poetry Chapbook- Great Personal Gift
with Andrew Birden

Dec 3, 2019 at 1 pm
Learn to compile, format, typeset and print a chapbook of poetry, family recipes, family history, etc. that is suitable for gifts. In this course, participants will bring personal poetry which the class will combine and format to create files for a print-ready 8.5 x 5.5 booklet using free software.
SAGE Readers Theater
with Dennis Koch

Nov 12, 2019 at 9:30 am
We all loved being read to when we were young and there is still a warm memory/feeling when it happens today. Reader's theater is a style of theater in which the actors do not memorize their lines. Actors use only vocal expression to help the audience understand the story rather than visual storytelling such as sets, costumes, intricate blocking, and movement. There is no need for memorization just being able to show expression when you read. This is a performance class.
SAGE The Power and Influence of Big Money
with Alice Bolstridge

Feb 4, 2020 at 9:30 am
The Power and Influence of Big Money
Lively discussion is expected in this ZOOM-at-home class about effects of big money on legislative policy and citizens' lives. Selected readings from a book in progress about life as a volunteer activist. The title, Through the Eye of a Needle by Alice Bolstridge, refers to Jesus' warning: "It is easier for a camel to get through the eye of a needle than for a rich man to enter the kingdom of Heaven." The book includes extensive observations made in 2018 of the 128th Maine Legislature dealing with problems the class will discuss: income inequality, the environment, health care, and education. 
Two ZOOM tutorials will be offered prior to the class on January 21 and 28. At both the tutorials and the class you will ZOOM from home. ZOOM is a videoconferencing platform that is similar to Skype. Required is a computer with a camera and a microphone. To see if your computer qualifies and to learn more about ZOOMing, call Nancy Roe, 768-7271, or email her at nancyproe@gmail.com