Filter by Category
Health & Wellness
GMO Round Table Dicussion
with Dr. Larry Feinstein

Apr 30, 2019 at 6 pm
Join Dr. Larry Feinstein Professor of Biology at UMPI, James Dwyer Crop Specialist at University of Maine Cooperative Extension and Randy Martin County Supervisor of Center Aroostook Soil and Water Conservation District as they lead a discussion to educate the public as to what "Genetically Modified Organism" (GMO) truly means.  This discussion will not take sides one way or another, it is meat to educate so that people understand what a GMO product is.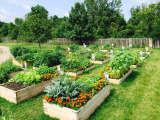 Grow Your Own Organic Garden
with . MOFGA

Apr 3, 2019 at 6 pm

, runs for 1 week
Interested in learning how to grow your own vegetables in a sustainable manner? Join us for an evening long workshop on how to grow your own garden organically. We'll talk about the basics of soil science and how to enrich your soil to produce healthy, high-yielding plants. The course will also cover the fundamentals of making and using compost, the principles of crop rotation and how to incorporate green manures and manage nutrients in the garden. Other topics will include how to tell the difference between cultivated plants and weeds, basic weed control strategies and cultural methods for dealing with pests. The instructor will be an experienced farmer or gardener from your region. We will even send you home with free seeds! All are welcome from first-timers to experienced gardeners who want to experiment with new techniques.
Star City Splash & Dash Club

Apr 5, 2019 at 3 pm

, runs for 4 weeks
A Splash and Dash is a fun and fast-growing sport that combines running and swimming.  The focus is on Participation rather than competition.  The swim is a 100 meter swim, and the run is 1 mile long.  Kids will spend 4 weeks training and practicing for the end event which will be held on April 5th, 13th, 26th and May 3rd.  Practices are not mandatory, come every week, or only come when you can! Splash and Dash club runs Friday's after school from 3-5pm at Gentile Hall at UMPI.  This is open to all children between the ages of 8-12. Students will be bused there from school and parents will need to pick up promptly at 5pm.  Snacks will be provided.  All participants are responsible for bringing their own swimsuits, towels, and dry change of clothes and sneakers.  The cost for this 6 week club, including registration fee for the Biathlon and a club t-shirt and Biathlon t-shirt is $35.00.  There is also a daily drop in fee, not including the event registration or a t-shirt for $5.00.