Filter by Category
Health & Wellness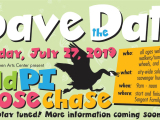 Wild PI Goose Chase
with WinterGreen Arts /UMPI

Jul 27, 2019 at 9 am

, runs for 1 week
Wild PI Goose Chase, a city-wide, family-friendly event that brings together the fun of a scavenger hunt and the thrill of the Amazing Race. Teams of up to 4 people (opportunities for teams of more than 4 people will be available). 3 divisions: Walkers/Runners, Non-motorized wheels, and Automobiles. Prizes awarded in each category.
This event is designed to encourage participants to explore the city, support local arts programming, and have fun while using mobile technology to complete a series of challenging Missions using the GooseChase.com app.
The Missions, to take place at sponsor locations, could include "snapping evidence" by taking photos or videos, answering questions via text, or doing a GPS check-in.
$25 Early Bird price per team and $35 per team after July 1.  Teams can include more than 4 people for an additional price ($40 for 4 or more until June 30, $50 for 4 or more starting July 1) All team members must stay together.