Filter by Category
Travel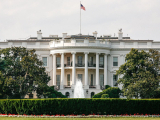 Online Registration Unavailable
Trip: Washington D.C.
with Bill Guerrette

Next session starts Apr 14, 2024
We are so excited to be offering a trip to Washington D.C. during Spring Break, April 2024
DAY 1 Arrive in Washington, D.C.
Dinner
World War II Memorial Honors the 16 million who served — and 400,000 who died — in the U.S. Armed Forces during WWII, and all who supported the war effort from home.
Hotel check-in.
DAY 2 Breakfast and hotel check-out.  Depart for Gettysburg, PA
Gettysburg Battlefield Relive this historic Civil War battle: Gettysburg Film: A New Birth of Freedom, Battlefield Tour.
Lunch
Depart for Baltimore, MD
The National Aquarium
Dinner
Baltimore Hippodrome: Mama Mia!
Hotel check in
DAY 3 Breakfast and hotel check-out.
Depart for Washington, D.C.
Arlington National Cemetery America's most famous military cemetery: Changing of the Guard, Tomb of the Unknown Soldier, Kennedy Gravesites, Space Shuttle Challenger Memorial.
US Marine Corp War Memorial A tribute to all U.S. Marines based on the famous WWII photo by Joe Rosenthal.
Lunch
Smithsonian Institution The world's largest museum complex: National Air and Space Museum (by appointment), National Museum of Natural History, Smithsonian American Art Museum.
Dinner
Jefferson Memorial Dedicated to our third president and author of the Declaration of Independence. FDR Memorial In remembrance of former President Franklin Delano Roosevelt. MLK Memorial Honors the famous civil rights activist, Martin Luther King, Jr.
DAY 4 Breakfast
White House (picture stop) Home of the U.S. president.
Mount Vernon George Washington's home, plantation, and Education Center, which showcases life during colonial times, 18th-century treasures, and our first president as a farmer and businessman.
Lunch
Holocaust Museum (by appointment) The museum provides documentation, study, and interpretation of Holocaust history.
National Archives (by appointment) Home of the original Constitution, Bill of Rights, and Declaration of Independence.
Dinner
Lincoln Memorial In remembrance of former President Abraham Lincoln and the great nation he fought to preserve during the Civil War. Vietnam Veterans Memorial Dedicated to the more than 58,000 men and women killed or missing in Vietnam. Korean War Veterans Memorial Tribute to the men and women who defended South Korea in the Korean War.
DAY 5 Breakfast
Capitol Hill Grounds Tour (external photo stop or by appointment) Capitol Visitor Center, Supreme Court, Library of Congress.
Washington Monument (picture stop) The world's tallest stone monument, which honors our nation's first president.
Smithsonian Institution National Portrait Gallery, National Museum of American History, National Museum of African American History and Culture (by appointment).
Lunch
Ford's Theatre and Petersen House (by appointment) Where President Lincoln was shot and later died on that fateful day.
Tour of National Cathedral (by appointment).
Dinner
9/11 Pentagon Memorial Honors the 184 victims of the 9/11 attack at the Pentagon.
DAY 6 Breakfast and hotel check-out.
Depart Washington, D.C., for home.
Trip dates: April 14 - April 19.
Non Refundable deposit of $99.
Cost is per person:
$2,299 quad occupancy.
$2,529 triple occupancy.
$2,622 double occupancy.
To sign up you MUST sign up through World Strides at this link.
Use Trip ID# 209474 when signing up.